Let's look at some of the factors doctors consider when diagnosing severe asthma
You may have severe asthma if you're taking all your asthma medicines Asthma controller medicines, including high-dose inhaled corticosteroid. but still struggling with: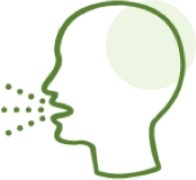 Poor symptom control
Such as coughing, wheezing, difficulty breathing, frequent use of a rescue inhaler, and waking up at night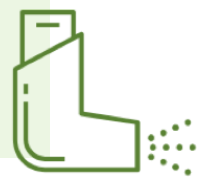 Worsening asthma
A flare-up of your asthma, also called exacerbations or severe asthma attacks, when symptoms don't improve and you need to add oral steroids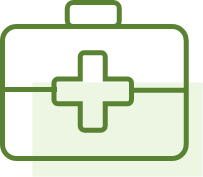 ER visits or hospitalizations
Due to the severity of your asthma attacks

How eosinophils play a role in asthma
What are eosinophils?
Eosinophils [ee-uh-sin-uh-fils] are normal white blood cells in your body. You may have increased levels of eosinophils, which can worsen inflammation in your lungs. Inflammation can cause severe asthma attacks.
Your doctor can give you a simple blood test that measures eosinophil levels to help determine if you have severe eosinophilic asthma.
Once you have an eosinophilic asthma diagnosis, together, you and your doctor will decide if adding a different kind of asthma treatment could help.
Want information, tools, and tips about NUCALA sent to your inbox?
By completing this form, you certify that you are at least 18 years old.

GlaxoSmithKline (GSK) believes your privacy is important. By providing your name, address, email address, and other information, you are giving GSK and companies working with GSK permission to market or advertise to you across multiple digital and offline channels, or contact you for market research or other purposes, regarding the medical condition(s) in which you have expressed an interest, as well as other health-related information from GSK. GSK will not sell or transfer your name, address, or email address to any other party for their own marketing use. For additional information regarding how GSK handles your information, please see our privacy statement.
Next steps to take with your doctor
Most severe asthma can be controlled. Tell your doctor about everything you're doing to manage your asthma.
Also be sure to:
Tell your doctor when your symptoms get worse
Tell your doctor when asthma interferes with your daily activities
Ask for a blood test to see if you have severe eosinophilic asthma
Ask your doctor if NUCALA may be right for you
Tell your doctor about your asthma symptoms and describe how they affect your life. Then, your doctor can help you get the best treatment for your severe asthma.
Did you know?
Repeated asthma attacks and inflammation caused by long-term, uncontrolled asthma can lead to more asthma attacks or exacerbations.
Talk to your doctor to see if adding NUCALA for your severe asthma is right for you.