Eligible commercially insured patients can get help with out-of-pocket costs
Pay as little as
for NUCALA
The NUCALA Co-pay Program helps eligible commercially insured patients with their out-of-pocket costs for NUCALA up to $15,000 for 12 months.
Getting started
There are 2 ways to get started with the NUCALA Co-pay Program:
With your doctor. Work with your doctor to apply for the program through Gateway to NUCALA.
Online. Visit www.NUCALACopayProgram.com to apply.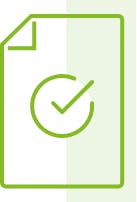 Your approval letter
Once you've been approved for the Co-pay Program, how you use the Co-pay Program will depend on how you get your medicine (either from a physician or a specialty pharmacy).
If you are approved for the NUCALA Co-pay Program, you'll receive an approval letter with specific instructions on how to save on the out-of-pocket cost for NUCALA, tailored just for you.

Keep your approval letter—it will include all the information you need to pay for NUCALA.
Pro tip

: take a picture of your letter or save a copy to your computer for safe keeping.
Getting your NUCALA treatment
Talk to your doctor about where your NUCALA treatment will be administered: at home or in your doctor's office. The NUCALA Co-pay Program can be used at your specialty pharmacy or your doctor's office depending on how you receive NUCALA.
A specialty pharmacy is a pharmacy that mostly provides only medications for people with serious health conditions requiring complex therapies
Co-pay Program eligibility
For full terms and conditions, go to GSKCopayPrograms.com.
Thinking about starting NUCALA?
MyNUCALA can support you along the way.