Is NUCALA a steroid?
Most patients with EGPA are first treated with corticosteroids, such as prednisone. Some patients taking corticosteroids are able to achieve remission, but some may experience relapses and require additional medicines to treat their EGPA, formerly Churg-Strauss syndrome.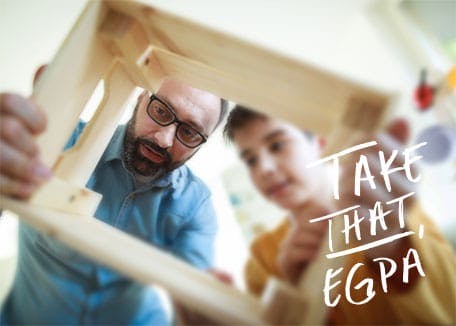 NUCALA is different: it's a biologic.
And when it's added to your current treatment plan, it can help reduce your symptoms and flares related to EGPA. Woo-hoo! Did you also know that NUCALA may make it possible for your healthcare provider to reduce your steroid dose? Over half the patients who were being treated with NUCALA were able to have their healthcare providers lower their dose of oral steroids to 7.5 mg a day or less— and 1 out of 5 patients no longer required oral steroids at all. Your results may vary. Ask your healthcare provider about taking NUCALA.

You asked for more.
Patients treated with NUCALA spent significantly longer time in remission by the end of the 1-year study. And get this—more patients had fewer relapses and a lower daily dose of oral steroids as well. So, what are you waiting for? Talk to your healthcare provider about adding NUCALA to your current EGPA medicines to:
Your results may vary. Ask your healthcare provider if NUCALA is right for you.
* "Complete remission" was defined as no active vasculitis and a prednisone or prednisolone dose less than or equal to 4 mg per day.
† "Relapse" was defined as worsening symptoms that required increased steroid dose, and/or increase in dose or start of immunosuppressants, and/or hospitalization.
Have an appointment coming up?
Be ready with questions for your healthcare provider. This Doctor Discussion Guide will allow you to map out questions or concerns ahead of time, so you and your healthcare provider can have a more open and informed conversation. Asking the right questions is half the battle in gaining a better understanding about EGPA (formerly known as Churg-Strauss syndrome).